NSCSL Online Democracy Award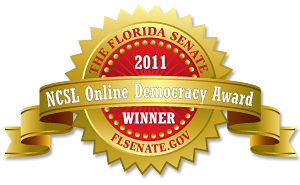 The Florida Senate was presented with the 2011 Online Democracy Award at the National Conference of State Legislatures' (NCSL) 2011 Legislative Summit in San Antonio, Texas, on August 11, 2011. Senator Nancy Detert (R-Venice) was on hand to accept the award on behalf of the Florida Senate.
"We are proud to offer a user-friendly website to the public that allows them to easily stay engaged and participate in the legislative process," said Senate President Mike Haridopolos. "I want to thank NCSL for recognizing our efforts to put democracy online and also applaud the staff of the Florida Senate who have worked so hard to put democracy at the fingertips of all of our state's citizens."
The Florida Senate took home the Online Democracy Award for producing a superior legislative website. The website won for providing easy navigation, a simple, clean and fresh design and a wealth of information for constituents and the public.
The site was also commended for providing:
Bill tracking;
Members' contact information;
Educational materials;
Social media widgets; and an
RSS feed.
Since 2005, NCSL's Online Democracy Award has been given annually to a legislature, legislative chamber or caucus whose website stands out for making democracy user-friendly. The Online Democracy Award is sponsored by two of NCSL's staff sections—the National Association of Legislative Information Technology (NALIT) and the Legislative Information and Communications Staff (LINCS). Previous winners of the NCSL Online Democracy award include the legislatures in Tennessee, Utah, New Jersey, Minnesota, Texas and Washington.