Excellence in Higher Education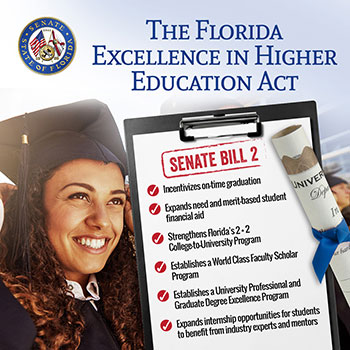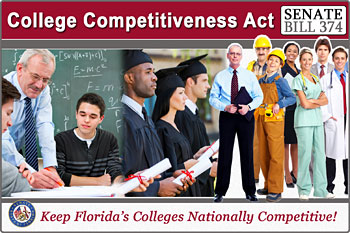 During the 2016-2018 Legislative Term, the Senate is working to enact an aggressive and comprehensive higher education agenda that boosts the strength and competitiveness of our state universities as our primary economic engine to drive vibrant, sustainable economic development and growth in high-paying jobs. This package of policy enhancements and funding investments will elevate the prominence of our state universities and increase their ability to compete as national destination institutions, while preserving access and increasing affordability for Floridians.
Senate Bill 2, the Florida Excellence in Higher Education Act, by Senator Bill Galvano, promotes on-time graduation by expanding student financial assistance and support, establishing tuition and fee incentives, streamlining 2+2 articulation, and strengthening mechanisms that keep colleges and universities accountable to Florida taxpayers. The legislation also expands and enhances policy and funding tools state universities can leverage to recruit and retain the very best faculty, enrich professional and graduate school strength and viability, and bring aging infrastructure and research laboratories into the 21st century.
Senate Bill 374, the College Competitiveness Act, by Senator Dorothy Hukill, reinstates a statewide coordinating board for the Florida Community College System, expands 2+2 college-to-university partnerships, and clarifies responsibilities within Florida's taxpayer-funded K-20 education system to avoid wasteful duplication of programs offered by state universities, community colleges, and technical centers.
Legislative Progress