Child Welfare
The Florida Senate is committed to improving Florida's Child Welfare System. An adopted child from a family that took in foster children throughout his childhood, Florida Senate President Wilton Simpson has made comprehensive reform of Florida's Child Welfare System a top priority of his two year term as Senate President.
"We know that the sooner a child has a permanent living situation, the better off they will be. And the reason we need to act now is because government is a terrible parent. All children need a loving home. Let us rally together to find permanent ones where they can thrive." – Senate President Wilton Simpson, 3/3/21 Opening Day of the 2021 Legislative Session.
"Dollars wisely spent on the front end are dollars saved – and more importantly – lives are saved through the opportunities created. There is so much potential in each and every child, but some are weighed down with issues that keep them from reaching it. Government makes a terrible parent, but we can make it easier for loving adults to help children in need." – Senate President Wilton Simpson, 10/15/19 – Designation Ceremony for the 2020-2022 Legislative Term.
"These are modest investments for the state, but could mean all the difference for a family member or foster parent facing the prospect of taking in a vulnerable child. I'll be the first to say government can never replace the role of a safe, loving family. But we can, and we will continue to make foster children a priority by identifying and supporting caring families for them." - Senate President Wilton Simpson, 1/11/22 Opening Day of the 2022 Legislative Session.
Legislative Progress 2022
Legislative Progress 2021
2022 Legislative Session
Improving Benefits for Foster Families and Relative Caregivers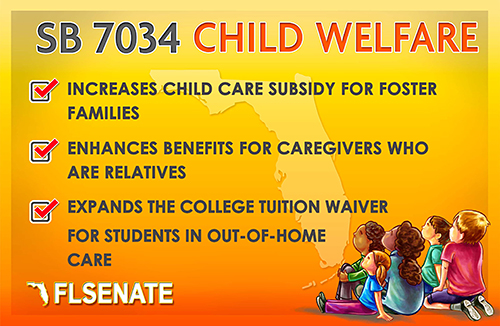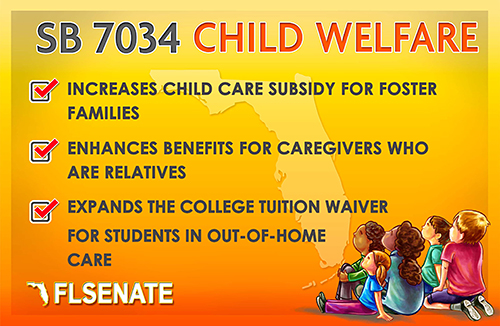 Senate Bill 7034
, Child Welfare, builds on reforms passed during the 2021 Legislative Session to increase protections and consistency for children in out-of-home care and address critical gaps in investigations and information transparency. The bill expands benefits for foster families and relatives willing to take on the responsibility of raising children who cannot live with their parents and expands the scope of foster children who are eligible for a tuition and fee waiver at a workforce education program, a Florida College System institution or a state university.
Legislation to Address the Fatherhood Crisis
House Bill 7065, a priority of Florida House Speaker Chris Sprowls (R-Palm Harbor), addresses the fatherhood crisis and at-risk youth in Florida. The bill establishes June as Responsible Fatherhood Month and encourages father involvement with grants to organizations that establish programs to provide evidence-based parenting education and assist non-custodial fathers to become self-sufficient and meet child support obligations. The legislation also increase supports for foster children—especially those who age out of care.
2021 Legislative Session
Improving Protections, Consistency for Children in Out-of-Home Care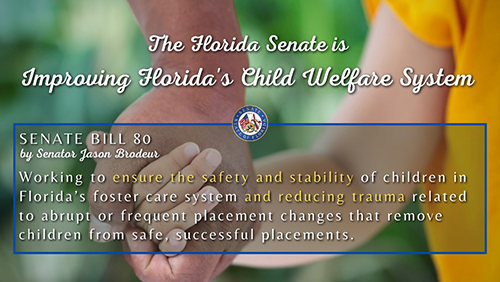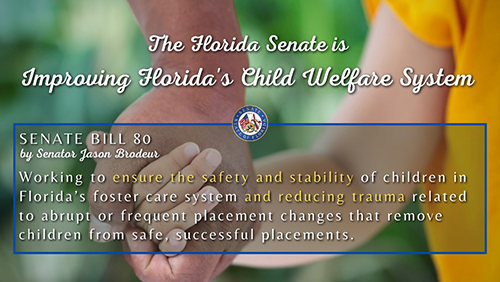 Senate Bill 80
, Child Welfare, by Senator Jason Brodeur (R-Sanford) increases protections and consistency for children in out-of-home care. The legislation expands and clarifies existing laws related to sibling and transition placements for children in out-of-home care. The bill works to recognize and balance relationships young children develop with out-of-home caregivers and siblings with those of the child's biological family members, in order to reduce trauma related to abrupt or frequent placement changes that remove children from safe, successful placements. The bill also requires that a quick reference FACE sheet be created for each child to summarize the status of the child's case and goals moving forward. Governor DeSantis signed SB 80 into law on June 29, 2021.
Increasing Reporting, Transparency, Training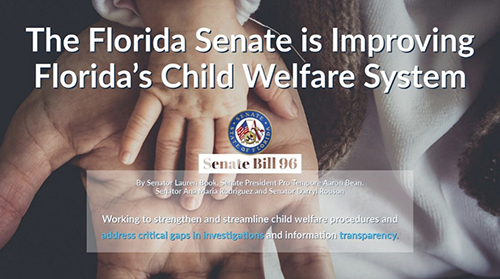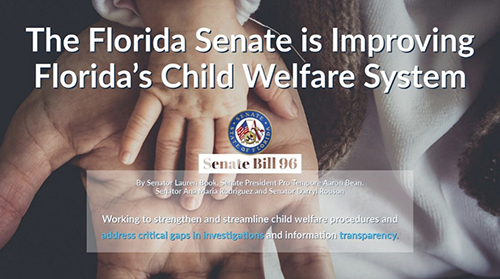 Senate Bill 96
, Child Welfare, by Senator Lauren Book (D-Plantation), combines a series of child welfare reform initiatives advanced during the 2021 Legislative Session, including SB 92 by Senate President Pro Tempore Aaron Bean (R-Fernandina Beach), SB 900 by Senator Ana Maria Rodriguez (R-Miami), and HB 1447/SB 1844 by Senator Darryl Rouson (D-St. Petersburg). Among other reforms, the legislation strengthens and streamlines child welfare procedures and addresses critical gaps in investigations and information transparency.
SB 96 requires animal control officers who suspect child abuse to make a report to the Department of Children and Families, and conversely for child abuse investigators to report suspected animal abuse to animal control. To improve child safety, the bill requires various steps, including school educational programs, to help children become knowledgeable about their rights to be free from abuse. The bill also requires the DCF to develop and implement a family-finding program and a kinship navigator program to strengthen family connections, resources and placement options. To improve transparency, the bill expands access to confidential reports and records in cases of child abuse or neglect to include employees, authorized agents, and contract providers of the Agency for Health Care Administration and the Agency for Persons with Disabilities. The bill also implements the Marjory Stoneman Douglas High School grand jury recommendation to appoint a commission to specifically examine the mental health services in the state, creating a 19-member Commission on Mental Health and Substance Abuse to examine the current methods of providing mental health and substance abuse services in Florida. Governor DeSantis signed SB 96 into law on June 29, 2021.
Clarifying College Tuition Exemptions for Students in DCF Care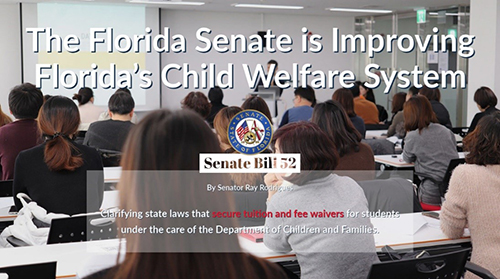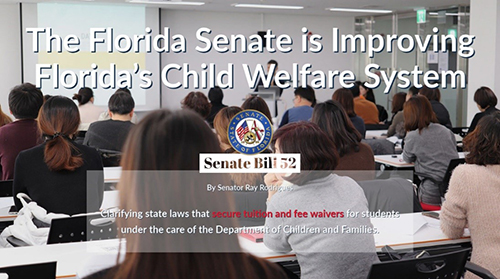 Senate Bill 52
, Postsecondary Education, by Senator Ray Rodrigues (R-Ft. Myers) makes a number of improvements to Florida's postsecondary education structure, including clarifying state laws that secure tuition and fee waivers for students under the care of the Department of Children and Families (DCF), increasing access to dual enrollment, and authorizing universities to create individualized bonus structures that recognize specific faculty and staff, among other changes.
Historic Expansion of School Choice Options for Florida Families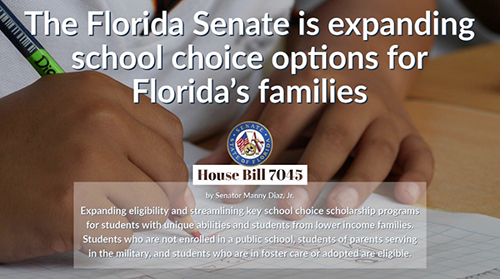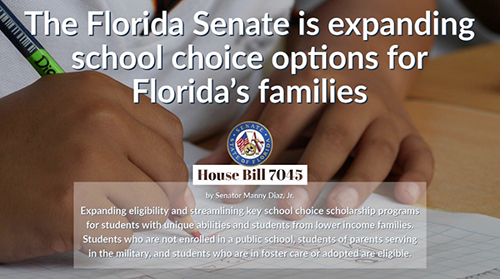 House Bill 7045
, School Choice, sponsored in the Senate by Senator Manny Diaz, Jr. (R-Hialeah) maximizes parental choice by expanding eligibility and streamlining key school choice scholarship programs for students with unique abilities and students from lower income families. Students who are not enrolled in a public school, students of parents serving in the military, and students who are in foster care or adopted are eligible.