Kathleen Passidomo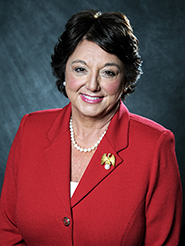 President
The Senate will convene at 2:00 p.m. on Monday, February 6, 2023, for the 2023 Special Session B.
Calendar
No events scheduled for this day.
Hurricane Relief, Property Insurance, Toll Credits
During Special Session A, the Senate passed legislation to improve the property insurance marketplace for homeowners, deliver relief for Floridians impacted by recent hurricanes, and provide $500 million in statewide toll savings for Florida commuters.
Recent Posts
Special Session B - Schedule and Legislation

(pdf)

February 3, 2023 - Publication by President's Office

Senator Stewart Files Environmental Legislation

February 3, 2023 - Press Release by Senator Stewart

Senator Lori Berman and Representative Joe Casello file bill to Close Loophole in Impaired Driving Statutes

February 3, 2023 - Press Release by Senator Berman

FIRST AWARDS THROUGH BROADBAND OPPORTUNITY PROGRAM INCLUDE $1.5 MILLION FOR DISTRICT 40 RESIDENTS IN THE CITY OF HOMESTEAD, THE REDLANDS, AND FLORIDA CITY

February 2, 2023 - Press Release by Senator Rodriguez

Governor DeSantis Announces Support for Democratic Leader's Quest to End Diaper Tax for Florida Families

February 1, 2023 - Press Release by Senator Book

STATEMENT: Leader Lauren Book Responds to the Governor's 2023-2024 Budget Priorities

February 1, 2023 - Press Release by Minority Office

SENATOR ANA MARIA RODRIGUEZ NAMED 2023 LEGISLATIVE CHAMPION BY THE GREATER MIAMI CHAMBER OF COMMERCE

(pdf)

January 31, 2023 - Publication by Senator Rodriguez

Senate District 40 January Newsletter - Senator Ana Maria Rodriguez

(pdf)

January 31, 2023 - Publication by Senator Rodriguez